Scrap Gold Pennyweight
Have you heard of a scrap gold pennyweight? There are some gold buyers that will quote you a price using a term called a pennyweight. That seems weird doesn't it? At Prescott Gold and Silver we always quote you prices in the industry standard of grams. The N.Y Spot gold price is quoted in Troy ounces.
You've seen the cash for gold signs popping up everywhere. Many of these gold buyers will quote you prices in pennyweights, as they know that the average person has no idea what a pennyweight is.
You can easily convert the price of 24k gold from ounces to grams. Just divide the one ounce spot price by 31.1 as there are 31.1 grams in a troy ounce.
What is a Pennyweight?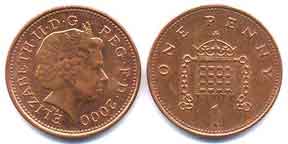 Pennyweights (pwt) are based on the weight of an olde English penny. They are also called Diamondweights or dwt's.
An ounce of gold is is 20 pennyweights of gold.The same ounce of gold is also 31.1 grams of gold.

I believe that some scam gold buyers use pennyweights to confuse customers. The only time the average person will hear the term is when visiting a gold buyer who uses the term. It is true that some legitimate gold buyers use pennyweights, but we certainly wonder why?
Pennyweight Conversion
A Troy ounce of gold has 31.1 grams or 20 pennyweights. To convert a pennyweight to a gram price divide by 155.
To Convert a gram to a pennyweight price multiply by 155.

The price chart below gives you a handy comparison of gold prices using grams v/s pennyweights.
PRICE PER GRAM V/S PENNYWEIGHT (DWT)
| | |
| --- | --- |
| GRAMS | PENNYWEIGHTS |
The prices above are based on a spot price of $1620.00 per ounce.
NOTE: Many Fly by Night Scrap Gold Outlets pay as low as $15.00 a pennyweight for 14K (this equals just $9.64 per gram)!
If you have gold jewelry, silver, platinum, coins, or any precious metals to sell by the gram, just  call Greg today at 928-710-2137. I'll meet with you on your schedule.

Open by appointment Monday through Saturday

I serve the communities of Prescott, Chino Valley, Prescott Valley, Camp Verde, Cottonwood, Surprise, Payson, Wickenburg, Cave Creek, Anthem, Phoenix, Wittman, and Sun City, Az. if you are in or visiting Prescott, just stop by to sell your gold.

Prescott Gold and Silver
205 N Cortez
Prescott Arizona 86301
Call 928-710-2137


Scrap Gold Pennyweight Updated 06/10/2015