Gold Buyers - What We Buy
What type gold do Gold Buyers Buy? What we buy at Prescott Gold and Silver is detailed below.

Gold Jewelry
In general we buy gold jewelry, scrap gold, gold watches, class rings, silver jewelry, gold nuggets, platinum jewelry, silver and gold coins. If it's made of gold, silver, or platinum, we'll buy it.

Gold Nuggets
We buy gold nuggets, placer gold, and gold filings.


Dental Gold
We buy dental gold such as gold crowns, gold fillings, gold bridges, dental floor sweepings and more.


Gold Coins
We buy American Gold Coins, Canadian, Austrian, French, German, Chinese, Australian, and many other gold coins.

Platinum
We buy platinum jewelry including rings, bracelets, earrings, chains, and other platinum jewelry. We will also buy any other bona fide platinum like platinum bars , coins, and nuggets.


Silver Jewelry
We buy all types of silver jewelry including class rings, diamond rings, wedding bands, toe rings, bangles, bracelets, charms, pendants, pins, earrings, findings, cuff links, beads, chains, and necklaces. Silver is usually marked either Sterling or .925. Sterling marks are accepted without question. All .925 items must be tested, as there are many counterfeits.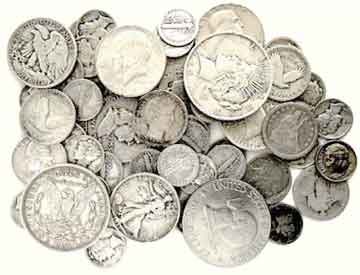 Silver Coins
We buy 90% American Silver coins, 40% Kennedy Half Dollar Coins, Canadian Silver Coins, and Mexican Silver Coins.
Silver Rounds
There are many .999 silver rounds made by various mints in America, Canada, Australia, China, and other countries. We'll buy them all. Unmarked rounds will require testing, as will any suspected fakes.

Silver Bars
There are many .999 silver bars (bullion) made by various mints in America, Canada, Australia, China, and other countries. We'll buy them all. Unmarked bars will require deeper testing, as will any suspected fakes.

I will test your gold, silver, and platinum as you watch. I'll weigh it on a State Certified Scale and give you an immediate appraisal of your item's value.

If you need to sell gold jewelry, silver, platinum, coins, or any precious metals, call Greg today at 928-710-2137. I'll meet with you on your schedule.
I work by appointment Monday through Saturday

I serve the communities of Prescott, Chino Valley, Prescott Valley, Camp Verde, Cottonwood, Surprise, Payson, Wickenburg, Cave Creek, Anthem, Phoenix, Wittman, and Sun City, Az. if you are in or visiting Prescott, just stop by to sell your gold or silver.

Prescott Gold and Silver
910 E Gurley Street
Prescott Arizona 86301
Call 928-710-2137

Gold Buyers Page Updated 06/10/2015

Leave Gold Buyers & Return to Home Page