US Silver Coins
Here's a little history on US Silver Coins. From the founding of our country up through 1964 our coinage was made of silver or gold. Most of our silver coins minted for circulation were made of 90% silver.

In 1965 most of our circulating coins lost their silver. The exception were the 1965 to 1970 Kennedy Half Dollars. They are 40% silver.

Here's a list of Circulated US Silver Coins that are valuable:

Silver Pennies - None, the U.S. Made Steel pennies in 1942
Jefferson Nickels/war nickels - 1942 to 1945 (35% silver)
Barber dimes from 1892 to 1916 (90% silver)
Mercury dimes from 1916 to 1945 (90% silver)
Roosevelt dimes from 1946 to 1964 (90% silver)
Barber quarters from 1892 to 1916 (90% silver)
Washington quarters from 1946 to 1964 (90% silver)
Barber half dollars from 1892 to 1915 (90% silver)
Walking Liberty half dollars from 1916 to 1947 (90% silver)
Franklin Half dollars from 1948 to 1963 (90% silver)
Kennedy Half dollars 1964 (90% silver)
Kennedy Half dollars from 1965 to 1970 (40% silver)
(There were also older US silver coins not listed here, but most of them are in the hands of collectors.)


Silver Dollars
United States Silver Dollars were First minted in 1794 as authorized by The Coinage act of 1792. Silver dollars were minted from 1794 to 1803.

In 1834 a few silver dollar coins were minted, and marked as 1804, as officials realized coins minted in 1804 were marked as 1803. These were used as gifts for foreign officials. Only 14 of these are known to exist. These early silver coins are rare collectibles prized by coin collectors.

Silver dollar production started up again in 1836.

Morgan dollars from 1878 to 1921 (90% silver)
Peace dollars from 1921 to 1935 (90% silver)

Most Eisenhower dollars from 1971 to 1976 are not silver.

Nearly all newer American circulated dollars have no precious metals content.

Once our coinage turned from silver to fiat coins, the real silver coins began to be snatched out of circulation by stackers, hoarders, and investors as an investment, or a hedge against coming inflation.

American Silver Eagles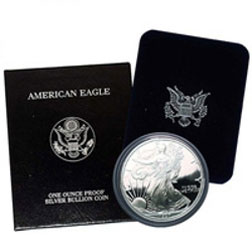 In 1985 the Congress passed the Liberty Coin Act authorizing the US Mint to begin minting American Silver Eagle Bullion Coins beginning in 1986, and on up through the present day. This was done to allow the average person the opportunity to once again invest in, and own silver bullion. They are marked as $1.00 coins, but their silver value is much higher.

If you need to sell US Silver Coins please call Greg today at 928-710-2137. I'll meet with you on your schedule.

I work Monday through Saturday by appointment.


I serve the communities of Prescott, Chino Valley, Prescott Valley, Camp Verde, Cottonwood, Surprise, Payson, Wickenburg, Cave Creek, Anthem, Phoenix, Wittman, and Sun City, Az. if you are in or visiting Prescott, just stop by to sell your gold.

Prescott Gold and Silver
205 N Cortez
Prescott Arizona 86301
Call 928-710-2137

Page Updated 06/10/2015

Leave US Silver Coins & Return to Sell Silver Coins